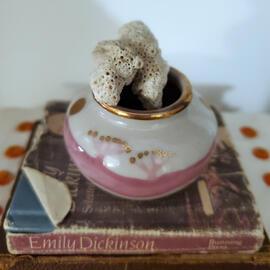 Coral O'Leary
---
Poet. Copywriter. Cultural Worker.
About
Hailing from rural Western New York, Coral O'Leary (she/her) is a lake-effect snow ex-pat, current New Yorker, queer writer, cultural worker, and asexual aromantic-spectrum lesbian. Her Pushcart Prize-nominated work has appeared in Toho Journal, Minnow Literary Magazine, Baby Teeth Journal, SORTES and Lavender Review.Coral is co-editor-in-chief of Impostor: A Poetry Journal (est. 2021).
Copywriting and editing services
With over ten years of copywriting and editing experience, I expertly craft content to meet the needs of any organization or business. I have worked with targeted SEO content, white papers, blog posts and more. I am the editor of a print art magazine and co-edit Impostor: A Poetry Journal. Portfolio and references available upon request.Email me at ohcoralpoetry at gmail dot com to get started!